Event Date:
Friday, October 5, 2012

to

Sunday, December 16, 2012
Event Date Details:
Gallery Hours:; Tuesday-Friday, 11am-5pm
ART, DESIGN & ARCHITECTURE MUSEUM @ JANE DEERING GALLERY
128 E. Canon Perdido Street, Santa Barbara, CA 93101
Gallery Hours:  Tuesday-Friday, 11am-5pm
Ruinophilia, a companion exhibition of works from the museum's permanent collection that depict images of destruction and decay, will be at the museum's space at the Jane Deering Gallery.  Curated by student interns, Mariel Lacson '14 and Jamie Stoneman '13, Ruinophilia explores artists' continued fascination with ruins from the 16th century to the present.  Through prints, photographs, sculpture and multimedia works, Ruinophilia ranges from depictions of crumbling buildings to bodies that display the infirmity of age. These works express a longing for the past, or an obsession with the passage of time.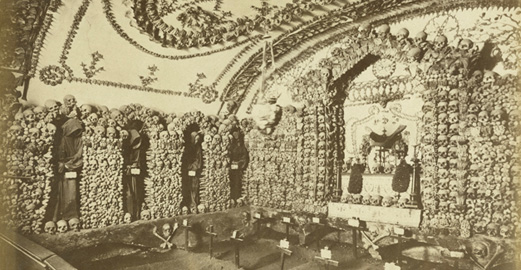 Artist unknown, Capuchin Convent Rome, 1882, albumen print, gift of Dr. Corlette Rossiter.
December 9, 2014 - 2:05pm