Event Date:
Saturday, September 25, 2021

to

Sunday, December 12, 2021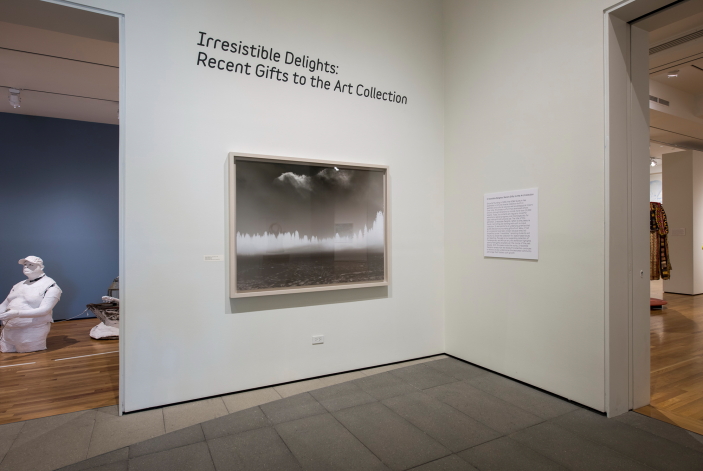 Since its founding in 1959, the AD&A Museum has been creating a rich and diverse art collection built on aesthetic value and pedagogical import. Over time, this treasury of art has grown almost entirely through donations to include over 10,000 objects. Today, it is regularly mined and brought out for exhibitions, special programs, and most especially for class visits and instructional use. The title of this exhibition, Irresistible Delights, refers to the pleasure found in enriching and working with a unique collection. But, it also points to the reward of amassing works of art that tempt students and faculty to utilize the collection for object-based study and teaching. A peek inside the Museum's vaults, Irresistible Delights highlights some of the numerous artworks donated to the Museum during the past decade. Focused almost entirely on contemporary and African art, two fields that have significantly increased, Irresistible Delights reveals how and why the Museum's collection has developed a unique set of criteria and gained appreciation community-wide.
Installation Images
Click on images to see their labels.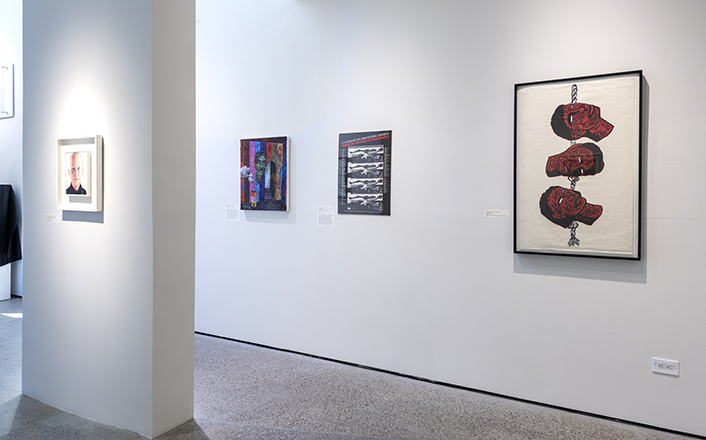 Contemporary Art at the AD&A Museum
Since its inception in 1959, the Museum has established a history of incorporating contemporary art in exhibitions and in its collection development plans. The impetus was, and remains, to present and have accessible for the University community work of innovative artists practicing anywhere from the local to the international. Currently, 25% of the Museum's collection is dated 1965 to the present. The works on view here showcase a small portion of the recent additions tothe contemporary collection. But, just as importantly, they highlight the methodology that guides decisions about the collection's growth. That methodology rests primarily on acquiring works of art that are unparalleled in their aesthetic or socio-cultural importance—in essence to represent and preserve the best examples of contemporary art. Within this larger goal are more specific charges that are responsive to the Museum's overarching teaching mission and are representative of the unique cultural region where it stands.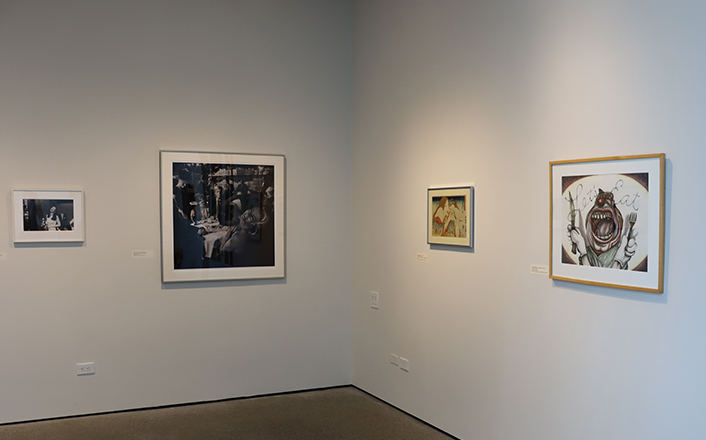 Collecting Contemporary Art with a focus on the Region
The Museum has a deep investment in representing this region, more specifically in relation to artists and depictions of the environs. By focusing on Santa Barbara County and the Los Angeles area as a whole, the Museum's holdings encompass several works by established area artists, some of whose work is on view here such as Linda Bessemer, Nell Campbell, Dane Goodman, Richard Hawkins, Victoria Hendler, Hugh Margherum, Catherine Opie, and, Bari Ziperstein. In 2017, the archive and collection of Keith Puccinelli, a long time Santa Barbara artist, was gifted to the Museum, further establishing the institution's regional significance. Here, that gift is marked by Let's Eat, ca. 1999, one of Puccinelli's signature drawings. An equally important endeavor is the augmentation of the Museum's repository of landscape imagery, which has its roots in an early bequest of paintings of the west by American painter and illustrator Fernand Lungren (1857-1932). Amplifying this founding collection is a selection of works by contemporary artists such as Todd Anderson, Gregory Botts and Chiura Obata. Fran Siegel's large-sale installation of 50 drawings depicting different aspects of Santa Barbara serves as a more lyrical, inventive interpretation of this area.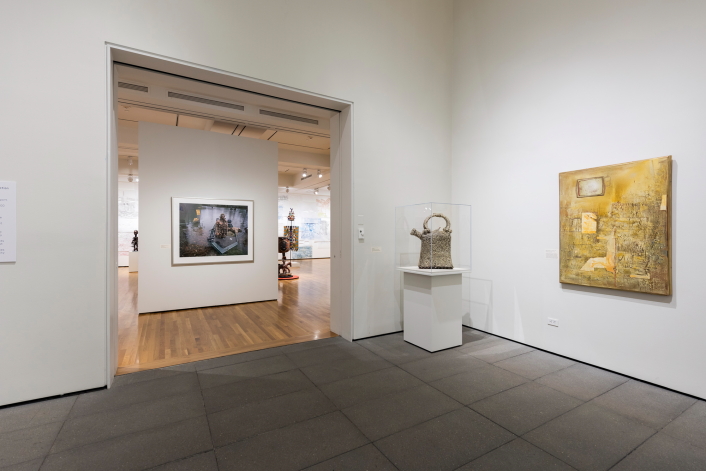 Collecting Art in Context
Beyond the methodology laid out for what is collected by the Museum, there is a larger context that plays a role in how its collection develops. Most notably, such growth occurs through donation and in recognition of the cultural landscape in which the Museum is situated. The vast majority of the collection is attributed to donations from local and nation wide supporters. The Museum is incredibly grateful to its benefactors for helping to build this collection, and consequently every gift is celebrated and welcomed. By advancing holdings in this manner there are inevitable gaps. To compensate, additional focus is placed on making the collection more diverse, inclusive and therefore more representative of our community as a whole. Recent accessions to help compensate for those gaps in the collection include, among others, Amy Cutler, Alison Saar, Masami Teraoka, and Brenna Youngblood.
An added element of consideration for the Museum's lively collecting dynamics is its fellow institutions in the area. Although the Museum has an encyclopedic collection, a consequence of its teaching mission being responsive to the breadth of specialties taught at the University, curators try to avoid accessioning works similar to those found locally. (Why duplicate efforts, especially when space is at a premium?) This collegial approach has prompted the Museum to connect supporters with other institutions in relation to specific types of donations, and vice versa. Such collaboration has also led to partnerships wherein which gifts of art or archives are shared with another institution, allowing yet more individuals in the community to experience the work.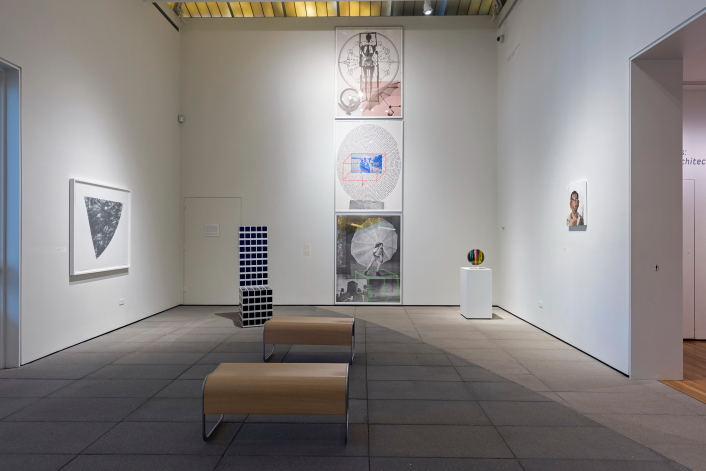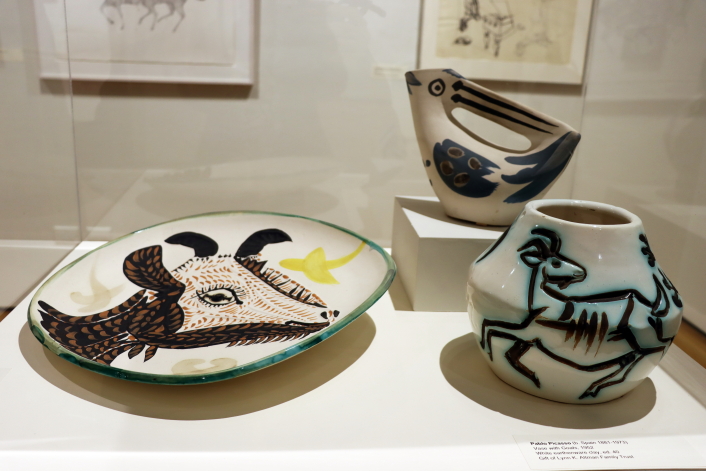 Collecting Contemporary Art on a Campus
Situated in a large, thriving University, the Museum is responsive to its most immediate audience. For this reason, collecting work for instructional purposes has guided many an acquisition for the Museum. The Museum's staff works with professors and keeps abreast of courses taught on campus in order to develop the collection and foster learning opportunities. Seeing examples in person, comparing them, and even handling works of art allows for in-depth study and nurtures an enthusiasm for art among students. With this in mind, the Museum's collection provides numerous examples of how artists have creatively worked with subject matter or utilized complex, or now obsolete techniques. Robert Rauschenberg's Autobiography, 1965 is not only physically commanding given its scale, but it also serves as an innovative example of self-portraiture incorporating text and image. Given all the digital advancements in photography and printmaking, the Museum has made sure to collect both newer and older forms of production such as William Christenberry's Church, Sprott, Alabama, 1971 and Richard Misrach's Untitled (#7787), 2007.
Students and their interests influence the Museum's collecting guidelines as well. In the 1990s the Museum began to acquire posters—a recognition of students' long time investment in this art form as consumers and producers. Collecting continues in this field related to music, fashion and of course socio-political causes as in the case of Flowers of Life for Central America, 1984 by John Baldessari. This recent gift highlights the artist's condemnation of the United States' intervention in this region.
Alumni
Just as importantly, the Museum has also begun to engage alumni artists and advance their work in the Museum's programming and holdings. When possible, University affiliation is denoted by listing an artist's years of attendance, and major if known. In this presentation, several alumni are included, such as Eric Beltz, Mary Heilman, Yoshiro Ikeda, John Nava, Adam Ross, and Stephanie Washburn.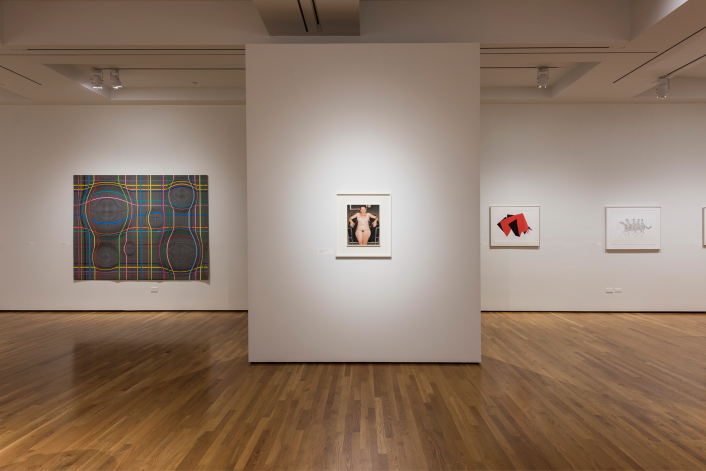 African Art at the AD&A Museum
With over five hundred works, the AD&A Museum's African collection has grown significantly over the past five and a half decades. The collection was first established in 1964, with a donation from the late filmmaker and philanthropist, Margaret Mallory. Her generous gift of over three hundred objects, which were largely acquired in Central Africa around the early twentieth century, not only laid the foundation for the donations that followed, but also established a basis for instructional use. 
The Museum's African holdings expanded again in the 1970s with contributions from Herbert M. Cole, Professor Emeritus of African Art and former interim Director of the Museum. Africanist Marla C. Berns, who immediately succeeded Cole as Director, would spend the next ten years building and refining this area of the collection. More recently, Professor Sylvester Ogbechie has acted as a consultant, offering his expert guidance on donations that might complement the Museum's existing works. Ogbechie's input reflects the integral role faculty members play when they engage with the Museum as a site of research and cultural exchange. Teaching exhibitions held in partnership with UC Santa Barbara's Library, which have included ornate accessories and figurines from different regions of the African continent, uphold the Museum's educational mission while underscoring a dedication to creative collaboration across campus.
The majority of the African objects on view here are part of Dr. Fima and Jere Lifshitz's endowment. This promised gift marks the latest induction of African artwork to the Museum. The couple began acquiring African art in 1987, amassing hundreds of works over time. The selection of large-scale sculpture on display highlights only a portion of the seventy objects promised to the Museum, and focuses on bodily representation and aesthetic variation in sub-Saharan Africa. From royal beaded regaliato the nkisi figure punctured with metal blades, these selections exemplify major stylistic lineages found in West and Central Africa. Offering new opportunities for curricular exploration, these most recent additions to the collection bring greater wonder and complexity to the Museum's African holdings.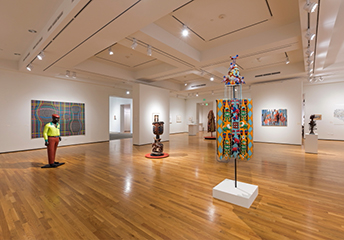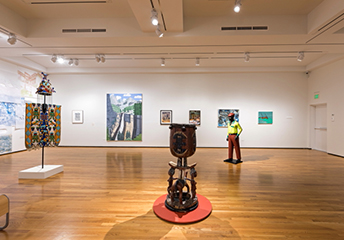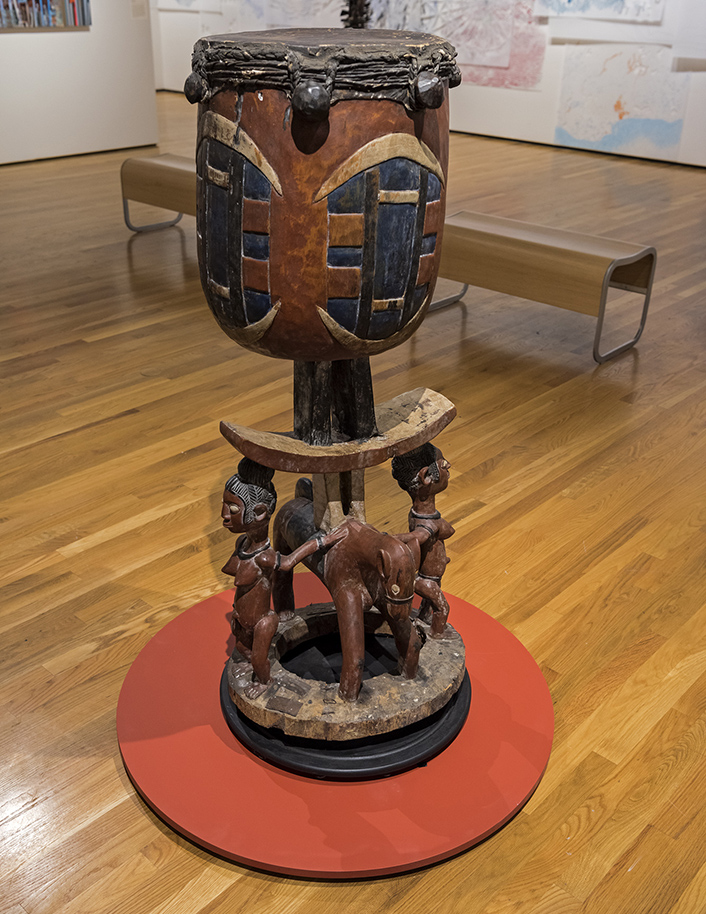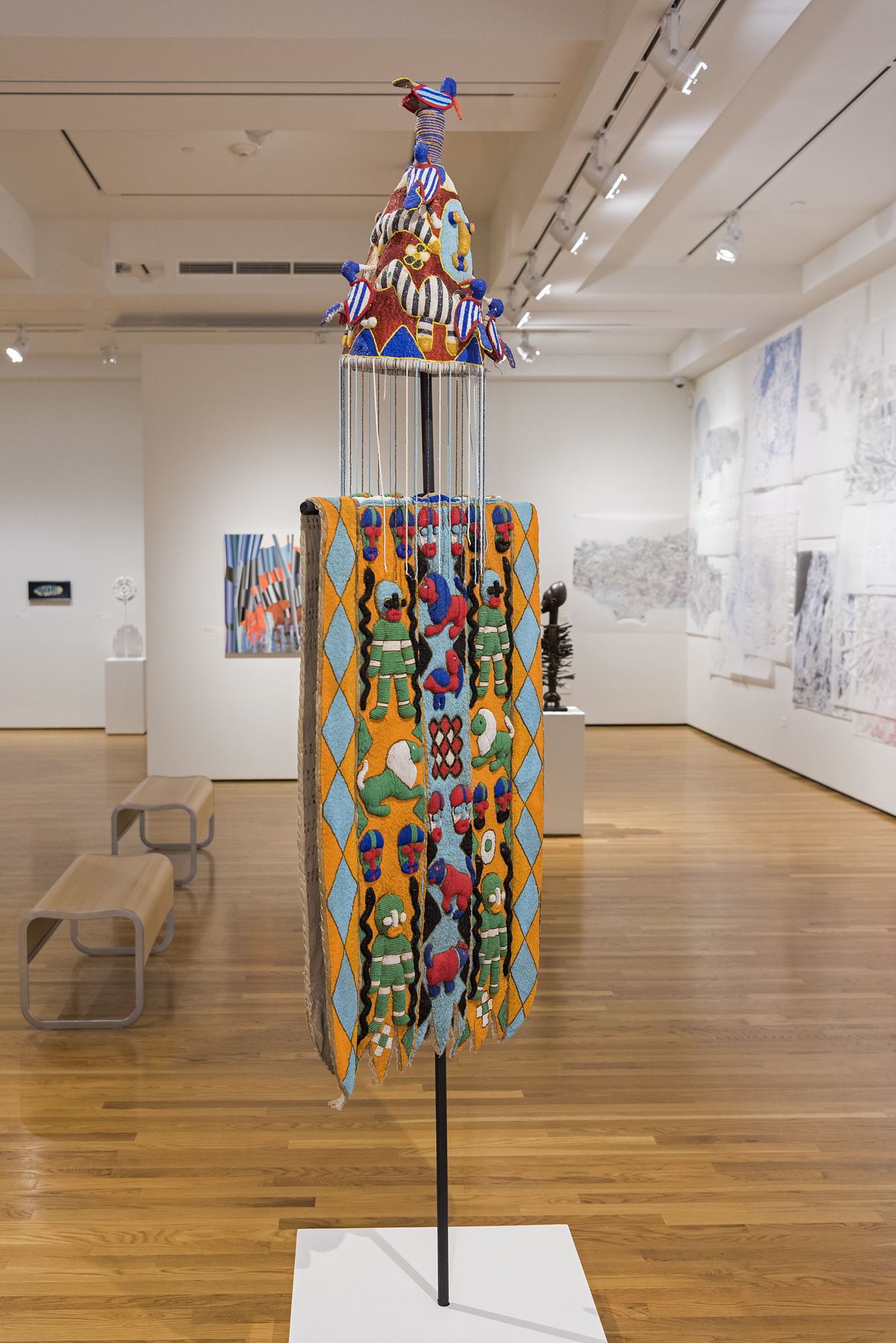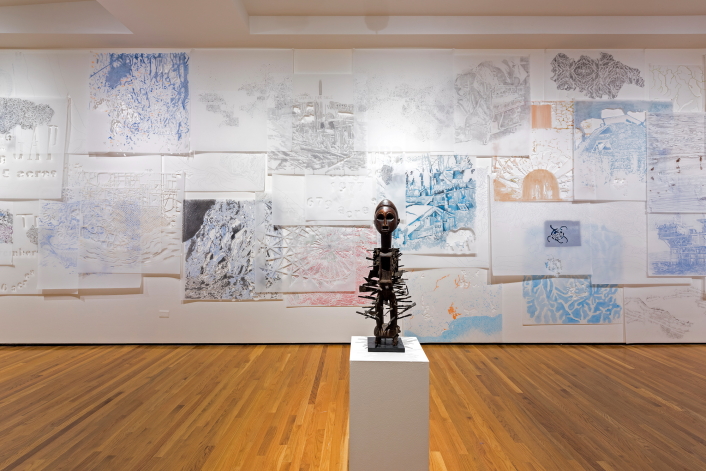 Installation images by Tony Mastres 
December 10, 2019 - 6:11pm