Event Date:
Friday, January 10, 2020

to

Sunday, December 6, 2020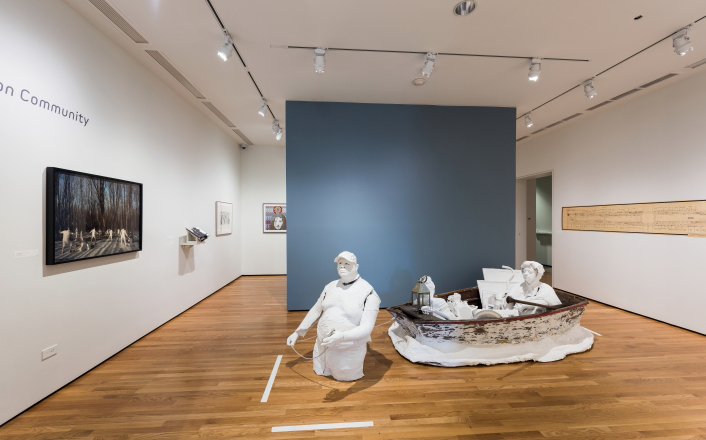 Common Bonds
is a group exhibition that looks at how artists and architects approach the concept of community. Featuring book arts, drawings, photographs, prints, sculpture, and video, this exhibition examines modern and contemporary works that explore how fellowship and communion are engendered and portrayed. For many practitioners, this exploration consists of observations of specific social circles, ethnic groups, cultural traditions, neighborhoods, or protest movements. For others, especially architects, community is created through planned developments or proposals for public spaces.
Common Bonds
includes work by Gregory Ain, Roberto Benavidez, Guillermo Bert, Karon Davis, Fritz Eichenberg, Asad Faulwell, Ja'Tovia Gary, Pablo Helguera, James Hill, Peter Hujar, Joseph S. Melchione, Ruben Ochoa, Julius Shulman, Jean Swiggett, Pipo Ngyugen-Duy, Richard B. Taylor, and Kara Walker. 
Originally opened on January 13, 2019. 
Installation images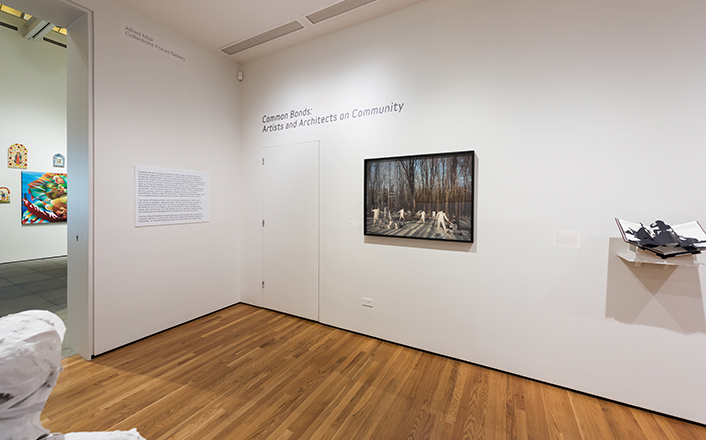 From left to right: 
Pipo Nguyen-Duy (b. 1962, Hue, Vietnam)
Swordmen, 2003
Chromogenic print
Gift of Stuart and Joan Levin
Kara Walker (b. 1969, Stockton, CA)
Freedom, A Fable,1997
Pop-up book
Gift of Bonnie Kelm & Bill Malis ,in Memory of Michael Darren Kelm
Kara Walker is an artist who explores race, violence, sexuality, and gender. Her works challenge viewers to confront stereotypes and discriminative ideals embedded in society. Freedom, A Fableis a pop-up book featuring black silhouettes of figures in a Civil War era narrative written by the artist. Although this book appears to be for children, it details the story of a female slave whose life after emancipation is anything but free, and who experiences both racism and sexism throughout the narrative. Freedom, a Fableis not only the title but the underpinning ethos of the book.—Morgan Owen (BA Art History& Global Studies 2019) Curatorial Intern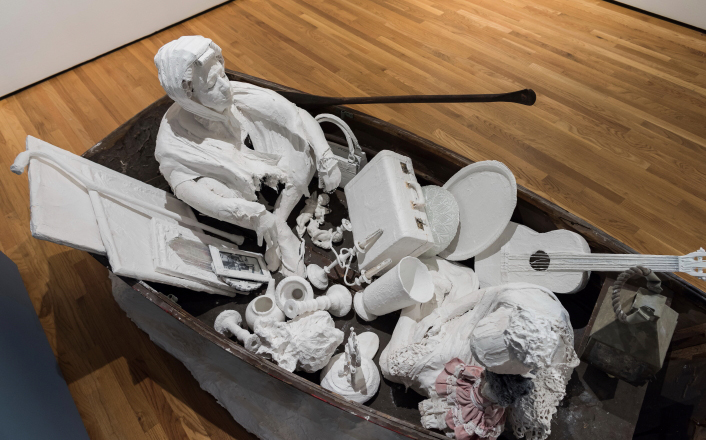 Karon Davis (b. 1977, Reno, NV)
Noah and his Ark, 2018
Mixed media sculpture
Collection of Beth Rudin De Woody
Karon Davis is best known for her life-size plaster sculptures. This work is part of her series Muddy Water that was inspired by the artist's evacuation during the 2017-18 Thomas Fire. This fire devastated areas throughout Santa Barbara and Ventura counties and forced many to abandon their homes. Noting the number of natural and man-made disasters, which have caused individuals around the world to become evacuees, Davis focused on how those disasters have impacted the Black community in particular. To address that idea, each work within the series is made to look as though the surrounding area has been flooded. As she states: "I started thinking about black bodies being affected by brown water, displaced by brown water, our relationship with water and what's been going on recently in Compton [where the local agency has delivered dirty water to residents for years]. Muddy waters caused by natural disasters or manmade systems that fail us, whether it's the levees, the sanitation system or the governmentthat's supposed to provide clean water to everyone. That is our natural right." —Morgan Owen (BA Art History& Global Studies 2019) Curatorial Intern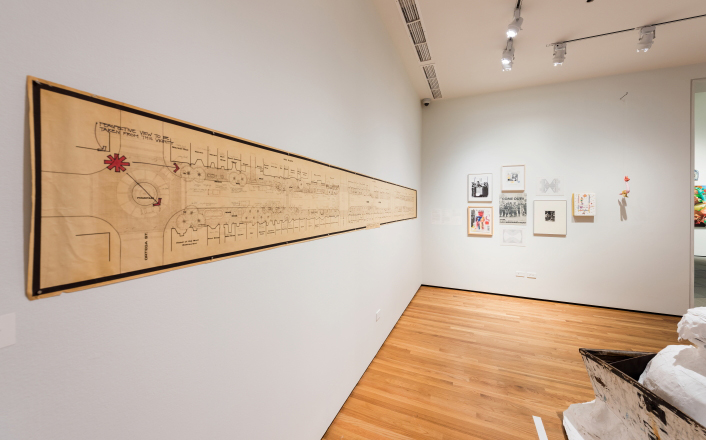 Richard B. Taylor (b. 1926, Greensville, SC; d. 1993, Santa Barbara, CA)
City of Santa Barbara, State Street Plaza, 600 block State Street (Santa Barbara, Calif.), 1979-1980
Graphite, colored pencil, and ink on paper
Richard B. Taylor papers, Architecture and Design Collection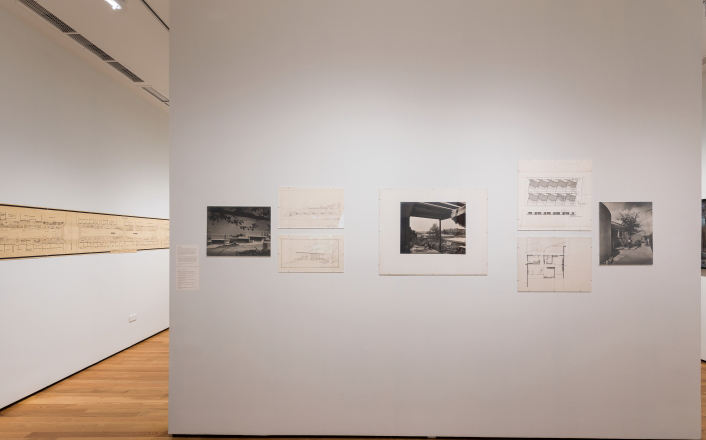 Avenel Homes
As a result of postwar shortages in housing, ten veteran families banded together to hire innovative architect Gregory Ain to design and build a cooperative housing development on a plot of land in the Silver Lake area of Los Angeles. This was an uncharacteristic approach to housing at the time, which favored individually owned properties. Still extant today, the Avenel Cooperative Housing Project consists of ten individual homes that are notable for their privacy and spaciousness. Avenel is organized in two rows of five homes and each has the same flexible floor plan that included sliding wall dividers. These dividers allowed owners to reconfigure the spaces as needed and create up to three bedrooms. Despite its modern popularity, the project was controversial in its time as its cooperative approach to community was deemed "communist." Today, Ain's design is celebrated for its effective use of limited space to create attractive, low-cost housing. —Morgan Owen (BA Art History &Global Studies 2019) Curatorial Intern
From left to right, top to bottom:
Gregory Ain (b. 1908, Pittsburgh, PA; d. 1988, Los Angeles)
Gregory Ain papers, Architecture and Design Collection
Avenel Homes—view from street (Los Angeles, Calif.), 1946-47
Julius Shulman, photographer
Avenel Homes—view from north (Los Angeles, Calif.), 1946-47
Graphite on tracing paper
Avenel Homes—view of home froma private patio (Los Angeles, Calif.), 1946-47
Graphite on tracing paper
Avenel Homes—view of back patio (Los Angeles, Calif.), 1946-47
Julius Shulman, photographer
Gelatin silver print
Avenel Homes—Layout of Cooperative Housing Development (Los Angeles, Calif.), 1946-47
Ink on paper
Avenel Homes—Floorplan of Individual Home (Los Angeles, Calif.), 1946-47
Ink on board
Avenel Homes—view of side walkway (Los Angeles, Calif.), 1946-47
Julius Shulman, photographer
Gelatin silver print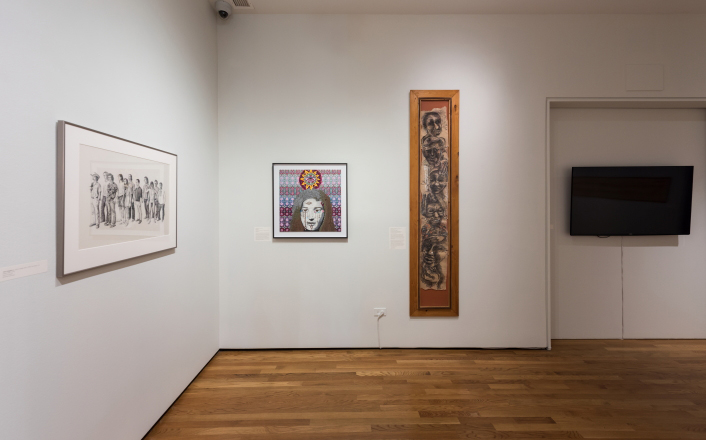 From Left to Right: 
Jean Swiggett (b. 1910, Franklin, IN; d. 1990, San Diego, CA)
Eleven Men,1974
Pencil on paper
Museum purchase
Asad Faulwell (b. 1982, Caldwell, ID) BA Art 2005
DJAMILA, 2018
Lithograph mounted on Komatex, with collage, painted map tacks and gold pins
Museum purchase
For several years, painter Asad Faulwellhas been depicting Algerian women who participated in the Battle of Algiers (1956-57). This urban guerrilla revolution relied on female combatants like Djamila Bouhired, pictured here, who carried out attacks against the colonial French population in the hopes of gaining independence for Algeria. This series of works evokes contradictory feelings in himself and viewers. As he states: "The women in the paintings killed people...They killed civilians in the name of freeing themselves from colonialism. They then went through hell themselves. They were tortured by the French soldiers. They were ostracized by their own countrymen. They are victims, aggressors, killers. My interest was in the moral ambiguity of the whole thing."
Aminah Brenda Lynn Robinson (b. 1940, Columbus, OH; d. 2015, Columbus, OH)
CONTRIBUTORS: Columbus Ohio, from Pages in History, Series 1, 1982
Scroll on handmade paper, pen & ink with watercolor and mixed media, with handmade frame by Tom Panell
Courtesy of Bonnie Kelm & Bill Malis, In Memory of AminahBrenda Lynn Robinson
Although academically trained, Brenda Lynn Robinson was most influenced by the well-known folk artists residing in the Black community of Columbus, OH. Most of her works were created in large series that serve as visual, historical chronicles of both enduring Black communities and those no longer in existence. During a trip to Africa, she was honored with the name Aminah and legally added it to her own. In 2004, Robinson was awarded a MacArthur Foundation Fellowship.  
Each work in Robinson's vast oeuvre is composed of unique, diverse media, from drawings to complex sculptures with found objects and "hogmawg," her own mud-like bonding agent. Pages in History is composed of 2,000 separate works and focuses on her neighborhood in Poindexter Village. This work, Contributors: Columbus, OH is a "totem" depicting portraits of the Artist's supporters. Drawn on her own handmade paper and sewn together with cowry shells she depicts, from the bottom up: Robinson's father (LeRoy E.W. Robinson); Mrs. Ursel White Lewis (Art Patron); the Artist's son (Sydney); folk artist Smokey Brown, and Robinson's mother (Elizabeth Z. Robinson). —Bonnie G. Kelm Ph. D. Collector & Consultant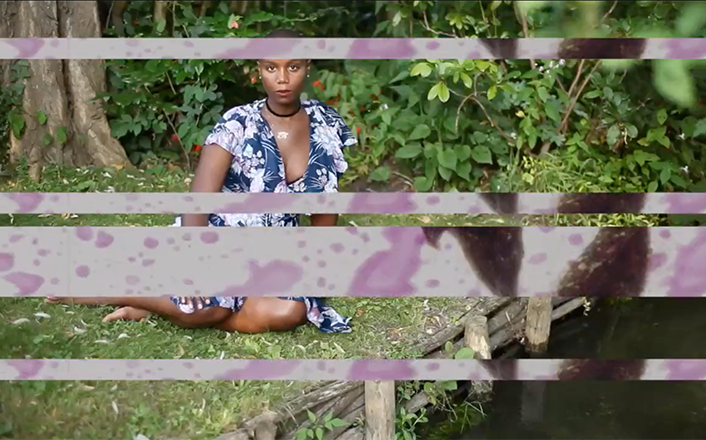 Ja'Tovia Gary (b. 1984, Dallas, TX)
Giverny I (NEGRESSE IMPERIALE), 2017
Film, 6 min., ed. 1/5
Museum purchase
Gary's most recent film developed out of an artist residency program in Giverny, France where Impressionist artist Claude Monet lived and worked in his gardens. Like her previous works, she employs direct animation techniques, including the application of flower petals and leaves onto the surface of the film stock. Gary's filmopens with clips of the lush gardens and of the artist variously positioned in this landscape, as well as archival footage of Monet. As the film progresses these more sedate depictions are interspersed with 1960s era footage of Fred Hampton, the Chairman of the Chicago Chapter of the Black Panther Party and 
contemporary cell phone footage of the fatal police shooting of Philando Castro during a traffic stop in July 2016. Running throughout the film are off kilter depictions of the gardens showing the landscape at odds with typical vantage points. Giverny Iis both a guttural cry of anguish as well as Gary's attempt to literally and figuratively reformulate viewers' characteristic point of view. By doing so, Gary hopes to reveal the implicit structures of power (often white, western, and male) that typically shape our experiences of looking, living and even making art, as exemplified by Monet. As she states, "My videos and films are political, psychoanalytic, and personalized moments of liberation from the anonymous...and distorted histories through which Black life is often viewed.
All installation photos taken by Tony Mastres
December 10, 2018 - 1:53pm