Event Date:
Saturday, July 14, 2018

to

Sunday, September 2, 2018
For her first solo museum exhibition, Ja'Tovia Gary (b. 1984, Dallas, TX; lives New York) will be represented by three films that range from documentary to more experimental filmmaking. Gary's videos are powerful examinations of the complexity and multidimensionality of  Black life. Her works frequently incorporate online found footage and 16mm archival film upon which she directly animates through etching and painting. The earliest work in the show highlights a Black queer rapper and his irrepressible, forthright approach to life and music. The most recent film, made while Gary was an artist in residence at Giverny, France, melds the lush beauty of the gardens with found footage of Monet, Fred Hampton, the Chairman of the Chicago Chapter of the Black Panther Party, and cell phone footage of recent violent interactions between police and Black citizens. The results are visceral, defiant, and nuanced artistic statements on violence, power, perception, and love. The title for her exhibition, is related to Gary's desire to apply an "ethic of care" to her research and filmmaking process and references the work of Black feminist writer and scholar Christina Sharpe. Consequently, Gary is focused on addressing challenging topics but always with a sensitivity and focus on the individuals and communities directly affected by these painful realities.
This exhibition has been generously supported by the Museum Council of the AD&A Museum.
NOTE:
On the following dates, the Ja'Tovia Gary exhibition will not be available for viewing due to scheduled events held in Main Gallery.
July 19 - Women of Impact panel discussion, book signing and reception 
August 30 - Launch Pad Play Reading 
August 31 - Firooz Zahedi, Talk and Reception 
Now available!  If you missed Ja'Tovia Gary's talk at the AD&A Museum, you can view it here: Ja'Tovia July 26.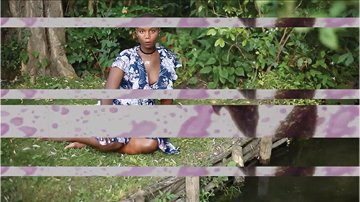 Image: Ja'Tovia Gary, still fromGiverny I (Négresse Impériale), 2017, digital video,6:22 min. Courtesy of the Artist.
May 14, 2018 - 10:25am