Event Date:
Saturday, February 25, 2023

to

Sunday, May 7, 2023
Event Date Details:
Opening reception:
Saturday, February 25
5:30-7:30pm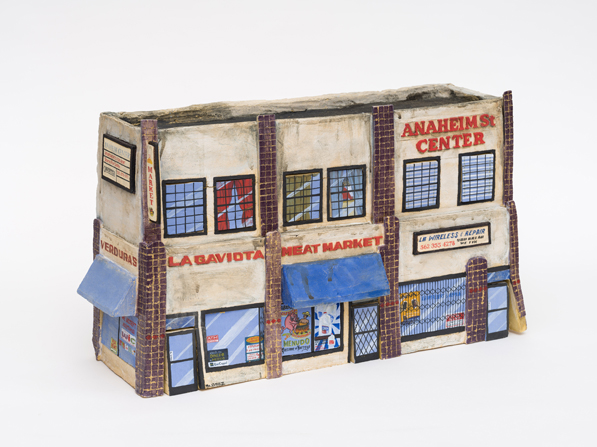 The work of Christopher Suarez (b. 1994, Long Beach, California) explores the relationship between communities and their built environment through the three-dimensional medium of clay. His ceramic sculptures recreate the neighborhood buildings, laundromats, convenience stores, and mercados that define his experience growing up in Long Beach, CA. Suarez relies on personal memory to rebuild seemingly unremarkable places and spaces that are, in fact, important cultural and personal sites within his community.
In his first solo museum exhibition, ESPÍRITUTECTUAL, Suarez explores the strip mall—a quintessentially Southern Californian architectural form—as the epicenter for the cultivation of community and culture. Despite their utilitarian design, these commercial centers are not only an integral part of the SoCal landscape, but more importantly for the artist, an extension of home. According to Suarez, "Our homes, the buildings that we go into, the businesses we shop at, these structures carry the spirit of our relationships." As the exhibition title alludes to, it is this "architectural spirit" and its precariousness that Suarez seeks to document in his work. The buildings featured in ESPÍRITUTECTUAL range from Long Beach landmarks, such as VIP Records, to more mundane businesses that line Anaheim Street. Regardless of their notoriety, for Suarez these buildings function as important spaces where culture and community is lived. 
Christopher Suarez received his BFA in Ceramic Arts from California State University, Long Beach. Suarez has served as the Lead ArtsBridge Teacher at the California State University, Long Beach and as an Education Intern at The Museum of Contemporary Art (MOCA) in Los Angeles. Suarez was awarded a Summer 2021 residency at Township 10 in western North Carolina, and most recently was Artist in Residence at the American Museum of Ceramic Arts (AMOCA). His work has been exhibited at Sebastian Gladstone, John Wolf Fine Art, and Werby Gallery at CSULB.
January 23, 2023 - 8:41pm