In celebration of Asian American Pacific Islanders and their contributions to American art and culture, the AD&A Museum, in collaboration with its Museum Interns, presents works from the permanent collection by AAPI artists. We also feature the work of emerging artists, including recent and current UCSB MFAs. A brief biography, researched and written by undergraduate interns, accompanies each work of art. 
As a collective space for modern and contemporary art and culture, as well as stories, we include below UCSB Library's resources for AAPI artist archives.  
We will continue to update this space. Check back for more artists and resources supporting the AAPI community.
John Way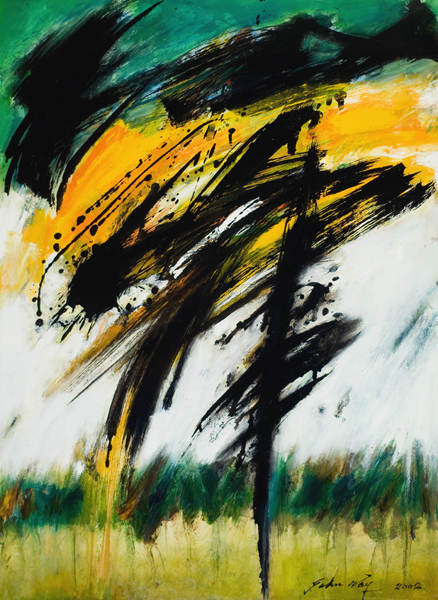 John Way, a Chinese-American artist born in Shanghai in 1921, was well known for his distinctive take on abstraction. Way's first inspiration came from his mentor, famous calligrapher Li Zhongqian, with whom Way began studying at the age of ten. His fascination with Chinese calligraphy remained present in his art throughout his life. This passion merged with the influence of the Abstract Expressionist movement of the mid-twentieth century, which greatly affected Way's artistic style as an up-and-coming artist. As a result, Way's paintings display both the characteristic abstract brush strokes of this movement, interlaced with his unique take on ancient calligraphy practices. Shown here, 'February No. 5' presents Way's style perfectly, filled with chaotic abstraction and painted over with calligraphic strokes. Like traditional Chinese calligraphy, the free-flowing style of Way's practice was enjoyed by his audiences, culminating in an impressive career in the arts and several calligraphy book publications. (Olivia Thompson)
Image: John Way (1921–2012), February No. 5, 2001. Oil on paper. Gift of Qi Pan. Art, Design & Architecture Museum; UC Santa Barbara. 
Parker Ito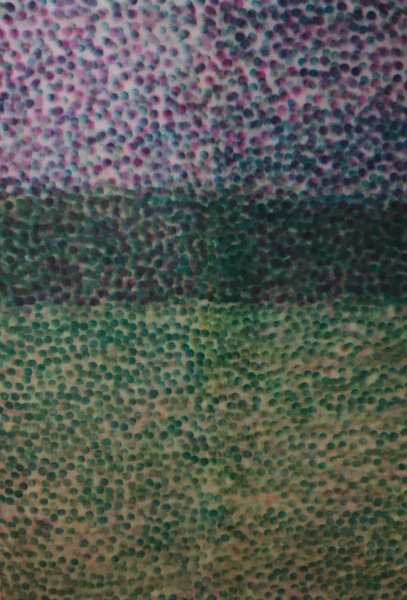 Contemporary artist Parker Ito specializes in a wide range of mediums. A fourth generation Japanese-American artist born in 1986, Ito involved himself in a plethora of artistic expression while growing up in Long Beach, California. He began acting and singing at a young age, even appearing on television as a child, before aspiring to become a professional skateboarder. Eventually, Ito found that art was his true calling. He painted oil derricks in Los Angeles, just north of his hometown, and began to dabble in painting, sculpture, and technology-based media. Working primarily with galleries in Los Angeles and China, Ito's work has been showcased around the globe. His inkjet piece printed on silk, shown here, features a color gradient of dots transcending from deep pinks to dark greens. Ito continues to create his art as commentary on absorption, particularly about how humans interact with the onslaught of media in the modern world. (Olivia Thompson)
Image: Parker Ito (b. 1986), Inkjet Painting #49, 2013. Inkjet print on silk. Courtesy of Marc Selwyn Fine Art, Beverly Hills. Art, Design & Architecture Museum; UC Santa Barbara. 
Chiura Obata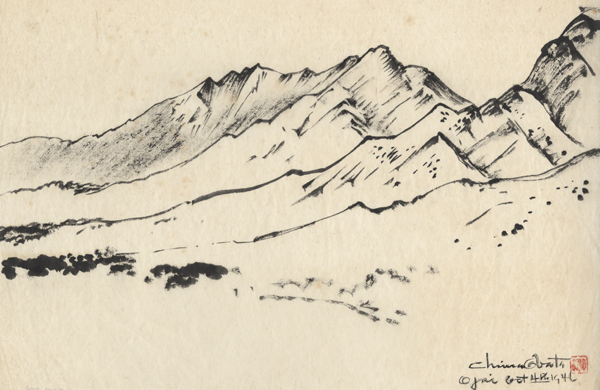 Ojai is a small southern Californian town in Ventura, north of Los Angeles, and known for its beautiful landscapes that draw visitors every year. Pictured in Sumi (Japanese term for black ink), a medium made from the soot of oil lamps, pinewood, animal glue and perfume, the iconic mountains of Ojai are brushed effortlessly in smooth lines onto paper.
Chirua Obata, who drew this landscape and others like it in 1946, immigrated to the United States in 1903 from Okayama, Japan. His life's work and story includes experiencing the Japanese Internment during World War II. During this time, he founded and directed art schools within the camps. He became a prominent artist in Northern California, and an art professor at UC Berkeley. His works convey a love for the land and established him in the canon of great American landscape artists. (Skylar Lines)
Chiura Obata (1885–1975), Ojai, 1946. Sumi-ink on paper. Gift of the Chiura Obata Family Estate. Art, Design & Architecture Museum; UC Santa Barbara.
Dug Uyesaka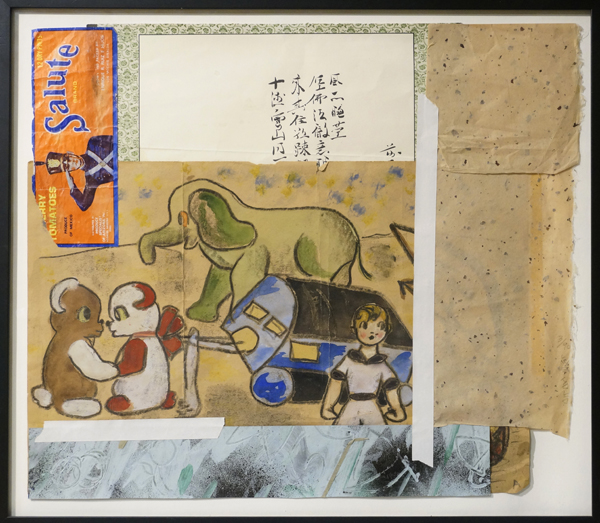 The mixed-media contemporary work of art combines paper, painting, Japanese calligraphy and a label from a food product, all juxtaposed on the surface. Created by Dug Uyesaka, the collage of disparate images and references, held together with white tape, gives the sense of a piecing together of a childhood memory. Maybe the collage is striving to give an insight into the artist's early life from a Japanese American family. That is only one reading, however, and the open-endedness of the piece invites interpretation and questions from viewers. A working Santa Barbara artist, Dug Uyesaka experienced the Japanese Internment of World War II as part of a Japanese-American family. Known for his assemblage work, he has exhibited in several galleries and museums in Santa Barbara. (Skylar Lines)
Dug Uyesaka (b. 1953), Collage with figures, animals and Japanese calligraphy, 2005. Gift of Estate of Frances Garvin and Keith Julius Puccinelli. Art, Design & Architecture Museum; UC Santa Barbara.
Hung Liu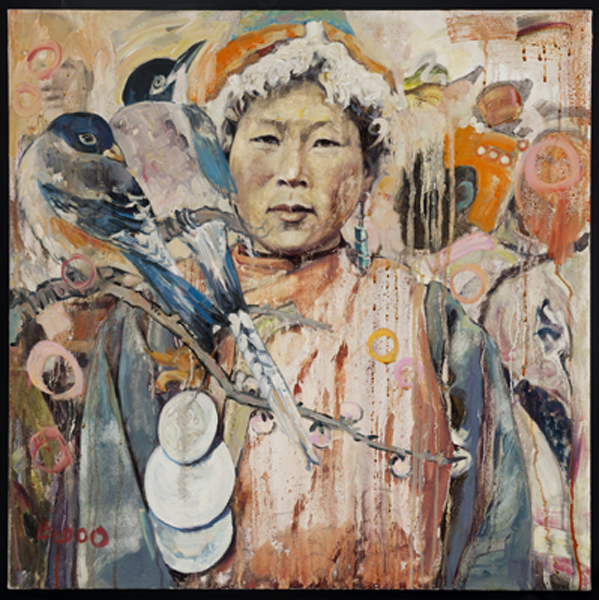 Hung Liu is a Chinese artist born in Changchun, under the communist regime of Mao Zedong. She has lived through much chaos, with revolution, exile, and displacement. As a result, her documentary images, based on historical photographs, focus on elevating the stories of people who have historically been unheard: ranging from prostitutes and refugees to soldiers and prisoners. Liu's images speak powerfully to the complex narratives of these struggling individuals. Her portraits display often forgotten individuals in a dignified manner as a way to lend power to their stories.
Liu painted this particular portrait with the same artistic philosophy. This work depicts a Yi woman. It is strongly implied that she is travelling in hopes of a better life elsewhere. In spite of her struggles as a Chinese ethnic minority, she stands tall and bears a stoic, determined expression. Like many of Liu's paintings, the drips on the canvas make the work appear somewhat dissolved, which alludes to the way in which memory slowly deteriorates as time goes on. At the same time, however, by turning photographs into large-scale paintings, Liu effectively revitalizes the past. (Daniel Ong)
Hung Liu (b. 1948), Border Portrait: Yi Woman, 2000. Oil on canvas. Art, Design & Architecture Museum; UC Santa Barbara.  
Yoon Lee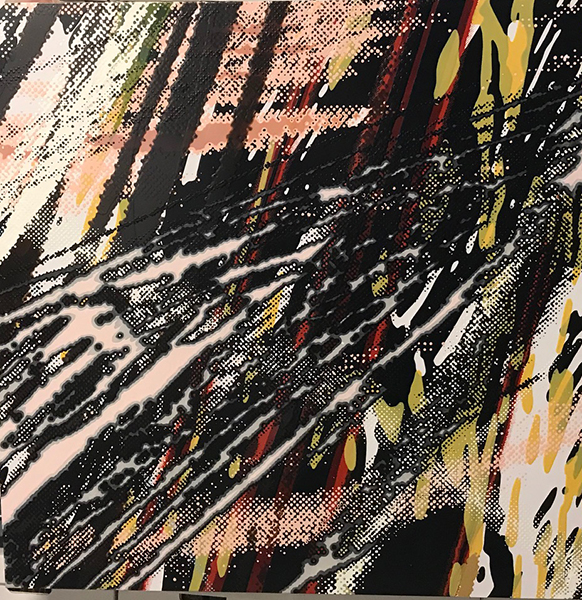 Yoon Lee is a Korean painter born in Busan, Korea. She is best known for her large-scale acrylic paintings, which tend to be both abstract and dynamic. Her unique painting style often includes large sweeping motions throughout the canvas, making her work appear spontaneous. However, upon closer inspection, it is clear that this is not the case. She develops layers in her compositions by using a computer to filter through images of popular media. She then manipulates these forms to create a sense of motion in her paintings. Her work is actually multiple coatings of carefully applied paint. Thus, her meticulous process contrasts greatly with the energetic appearance of her paintings: a dichotomy between order and chaos. 
Swipe is a perfect example of Lee's artistic style. It shows large and sweeping black brushstrokes scattered amongst swipes of pinks, yellows, and reds. While this work was completed slowly and carefully, the title of the piece combined with its gestural appearance conveys a sense of chaos and speed. (Daniel Ong)
Yoon Lee, Swipe, 2008. Acrylic on Sintra (PVC panel). Art, Design & Architecture Museum; UC Santa Barbara.  
Alina Kawai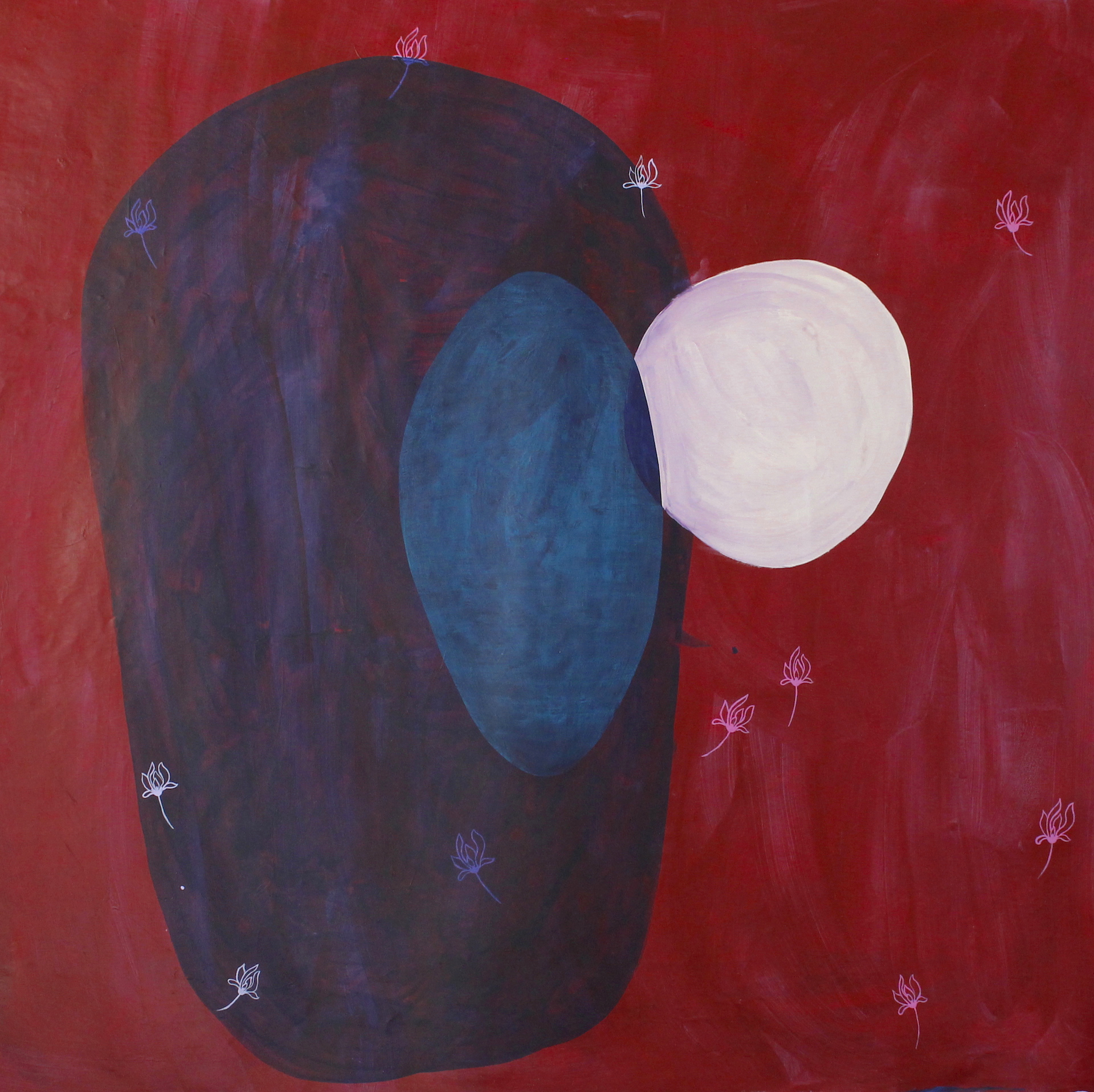 Born in Hyōgo, Japan, Alina Kawai is a 2021 MFA Candidate at the University of California, Santa Barbara. Her art is informed by her experiences moving to new and unfamiliar places, while endeavoring to remain close to her culture and upbringing. After moving to Hawai'i from Japan as a child, Kawai attended the University of Hawai'i at Mānoa. Following the completion of her BFA in 2016, Kawai remained in Hawai'i to continue producing art and working in contemporary art galleries before coming to California. While working towards her MFA, she has focused her art on her connections to Japanese culture, creating pieces that serve as both an informative experience for the viewer and an introspective process for the artist. Often using bold colors and shapes, Kawai's paintings have been exhibited in a number of galleries and can be found in the permanent collection of the Hawai'i State Art Museum. Visit the
2021 MFA Exhibition
to see more of Kawai's work. (Olivia Thompson)
Alina Kawai, ランの花がする会話 A Conversation Between Orchids, 2021. Acrylic on canvas. Courtesy of the artist.
Kio Griffith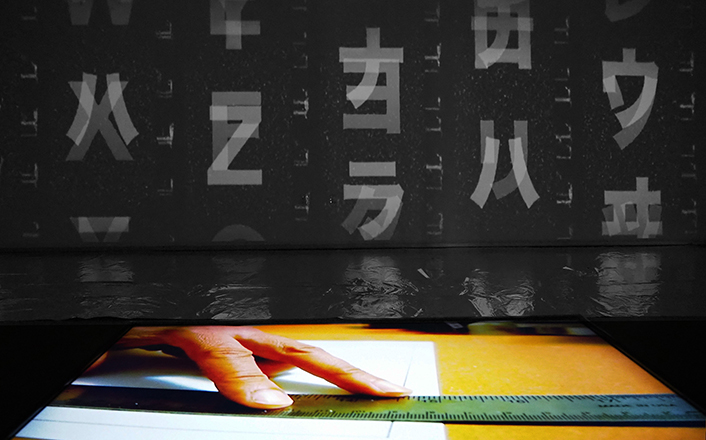 Kio Griffith (UCSB MFA 2020) was born and raised in Tokyo Japan. As an interdisciplinary artist, Griffith plays with a variety of mediums to communicate thoughts on modern-day issues including global warming, immigration, and hyphenate identities. 
This piece, Algorithm Counter, is defined by the artist as a "chance operation machine" which formulates randomized arrangements of words. The rows of Japanese and English letters move in different directions and pause randomly–– creating a series of letters that may or may not have any meaning. The work is "a language calculator, a stream of consciousness timer, and an interminable messaging billboard," as Griffith has stated. (Summer Haddaway)
Kio Griffith, Algorithm Counter, 2019. Processing generated video. Courtesy of the artist.
UCSB Library Resources
Special Collections, Asian American Pacific Islander Archives: 
https://www.library.ucsb.edu/special-collections/cema/asian-pacific-american-collections
Artists:
Dong, Jim - visual artist, photographer - https://www.library.ucsb.edu/jim-dong-papers
Gee, Zand - printmaker, graphic designer, photographer - http://www.oac.cdlib.org/findaid/ark:/13030/c8mg7qvg/
Hsiang, Bob - photographer - http://www.oac.cdlib.org/findaid/ark:/13030/c8gq738k/
Hom, Nancy - silkscreen artist, writer, graphic designer, curator, children's book illustrator - https://www.library.ucsb.edu/special-collections/cema/NancyHom
Ito, Michio - choreographer, dancer - https://oac.cdlib.org/findaid/ark:/13030/c82809hb/
Kearney Street Workshop - oldest multidisciplinary Asian American arts organization in the United States - https://www.library.ucsb.edu/special-collections/cema/kearny
Lim, Genny - playwright, poet, performance artist - http://www.oac.cdlib.org/findaid/ark:/13030/c8zg6ss4/
Seigel, Shizue - writer, visual artist - https://www.library.ucsb.edu/special-collections/cema/seigel
Tagatac, Sam - filmmaker - http://www.oac.cdlib.org/findaid/ark:/13030/c86m3c7d/
Tom, Cynthia - visual artist, curator, community artist activist - https://www.library.ucsb.edu/cynthia-tom-papers
Tanaka, Gayle - visual artist, photographer - http://www.oac.cdlib.org/findaid/ark:/13030/c80867h5/
Wong, Flo - installation artist - http://www.oac.cdlib.org/findaid/ark:/13030/kt7z09s5t2/
Wong, Leland - illustrator, photographer, screen printer - http://www.oac.cdlib.org/findaid/ark:/13030/c83t9npz/
May 11, 2021 - 11:53pm