FALL 2022 Exhibitions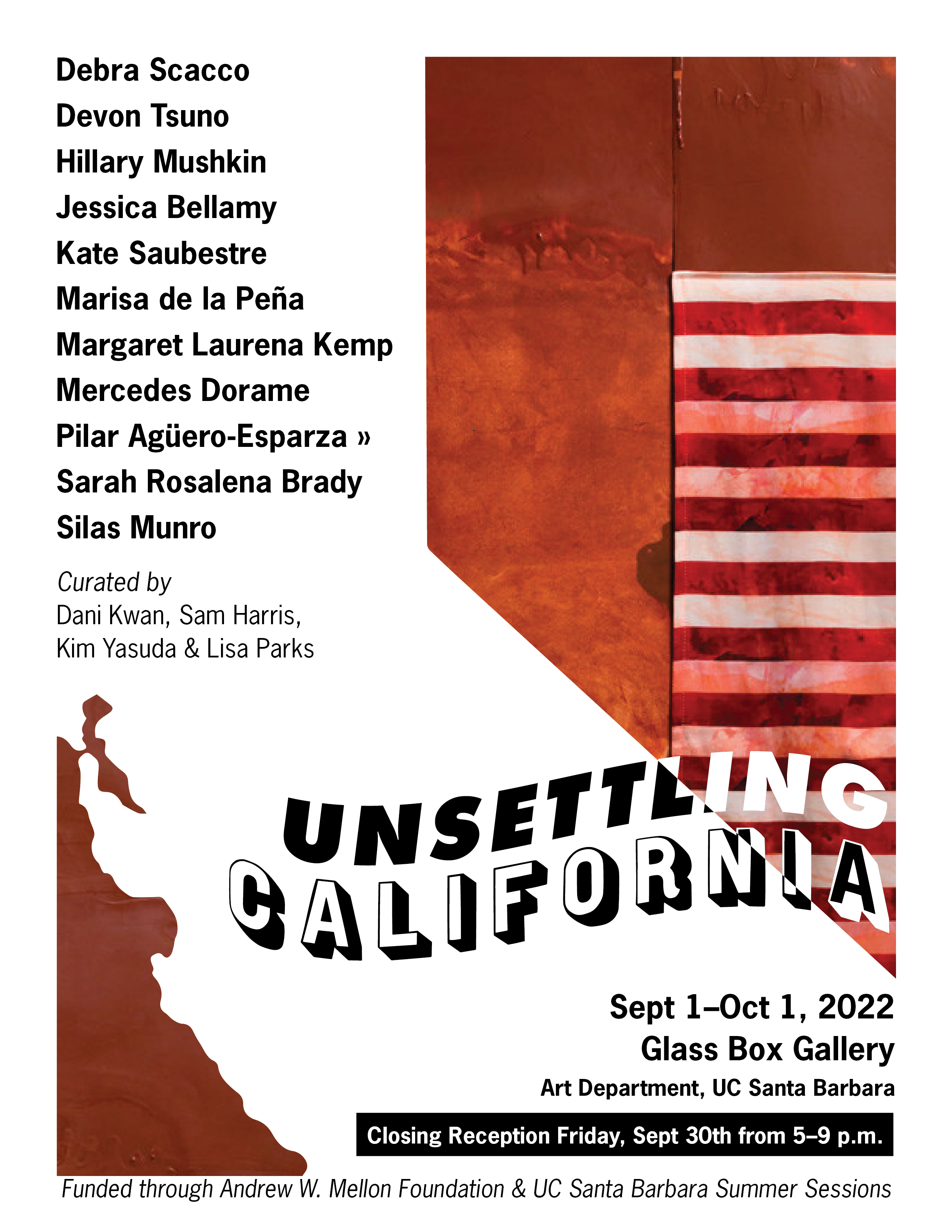 Unsettling California is a student-curated art exhibition with attendant educational programming focused on race and migration in California. The project evolved out of our fall 2021 interdisciplinary graduate course, "Race, Immigration, and White Supremacy in California", as part of the 2021-2022 Mellon Sawyer Seminar series, "Race, Precarity, and Privilege: Migration in a Global Context ".
The exhibition, presented in the Art Department's student-run gallery, has been co-curated by Mellon Sawyer seminar graduates, Dani Kwan (Art) and Samantha Harris (Education) with funding from a UCSB 2022 Summer Cultural Program grant. The showcase features works by contemporary California artists whose practices question the persistent presence of colonial ideologies, structures, and policies that have shaped migration, citizenship, inclusion, exclusion, and both racial and spatial formations of the State.
In conjunction with the art exhibition, a series of dialogue-building forums were hosted, including a graduate panel on global migration and a skill-share workshop focused on art and justice.
In addition to the exhibition, we also invite you to check out our new podcast entitled, The Dream Deferred. Season one, "Unsettling California" just launched last week and is available on the Buzzsprout platform here:  https://thedreamdeferred.buzzsprout.com.
It is also available on Spotify here: https://open.spotify.com/show/4EcbQjItPNgwxkbxObuewd
This exhibition and podcast are supported by a 2021-22 Mellon Sawyer Seminar grant with UC Santa Barbara Professors Jean Beaman, John Park, Lisa Parks, France Winddance Twine, and Kim Yasuda. Please see our website here documenting the year of the seminar activity: 
https://raceandmigrationucsb.org/
.  
SPRING 2022 Exhibitions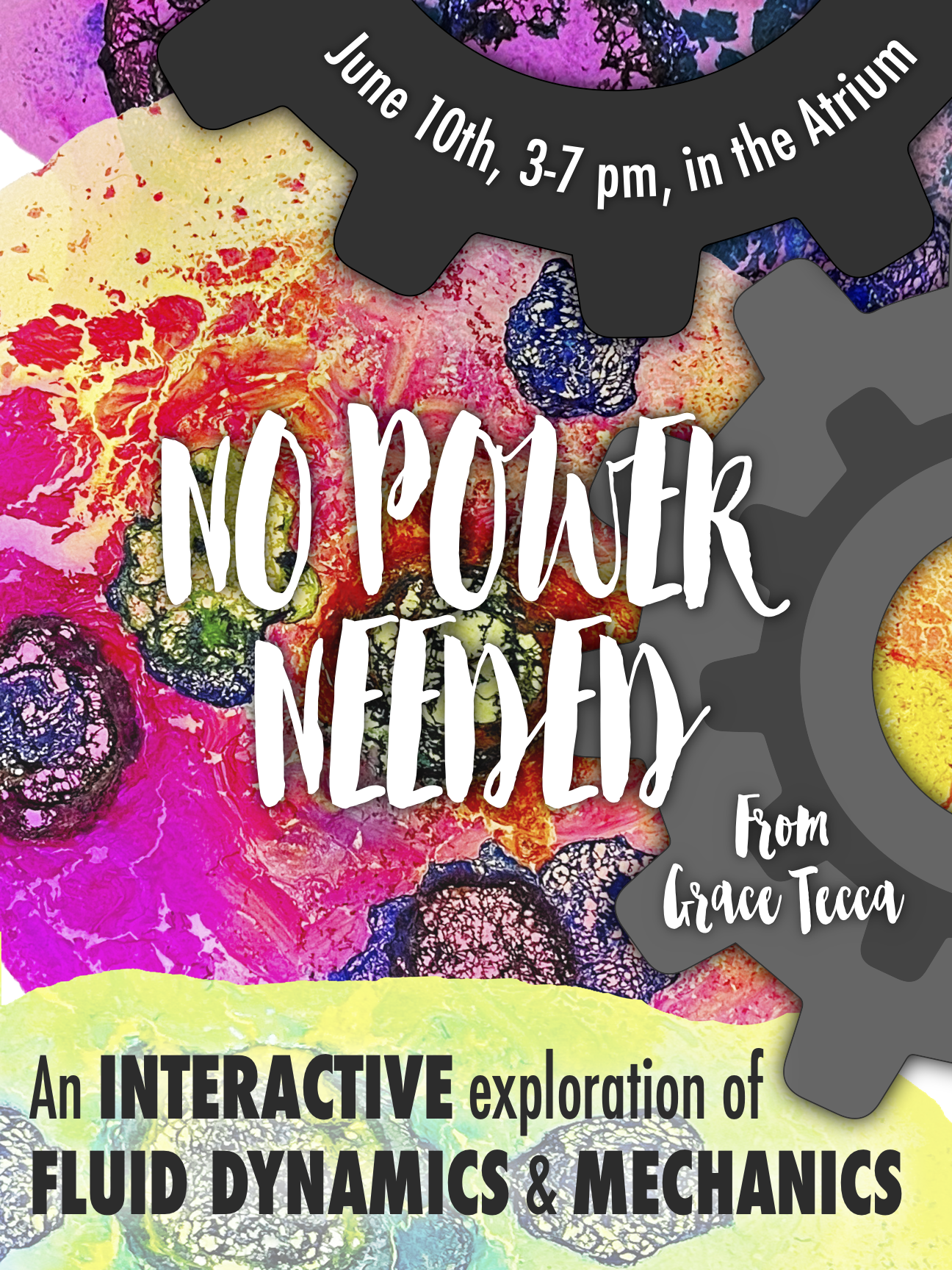 No Power Needed
Grace Tecca
Atrium
ARTS Building
Reception: June 10, 3–7 pm PT
Join the artist and the Art Dept in the metal yard (outside of the atrium) for No Power Needed, an interactive exhibition showcasing Grace Tecca's research into fluid dynamics and mechanics over the entirety of Spring quarter.
 
In working with gravity, manual mechanics and ink, they have created a contraption to engage the audience in creating their own stunning and psychedelic artworks. The reception is Friday, June 10th from 3-7 pm. There will be refreshments and an opportunity to walk away with your own artistic creation.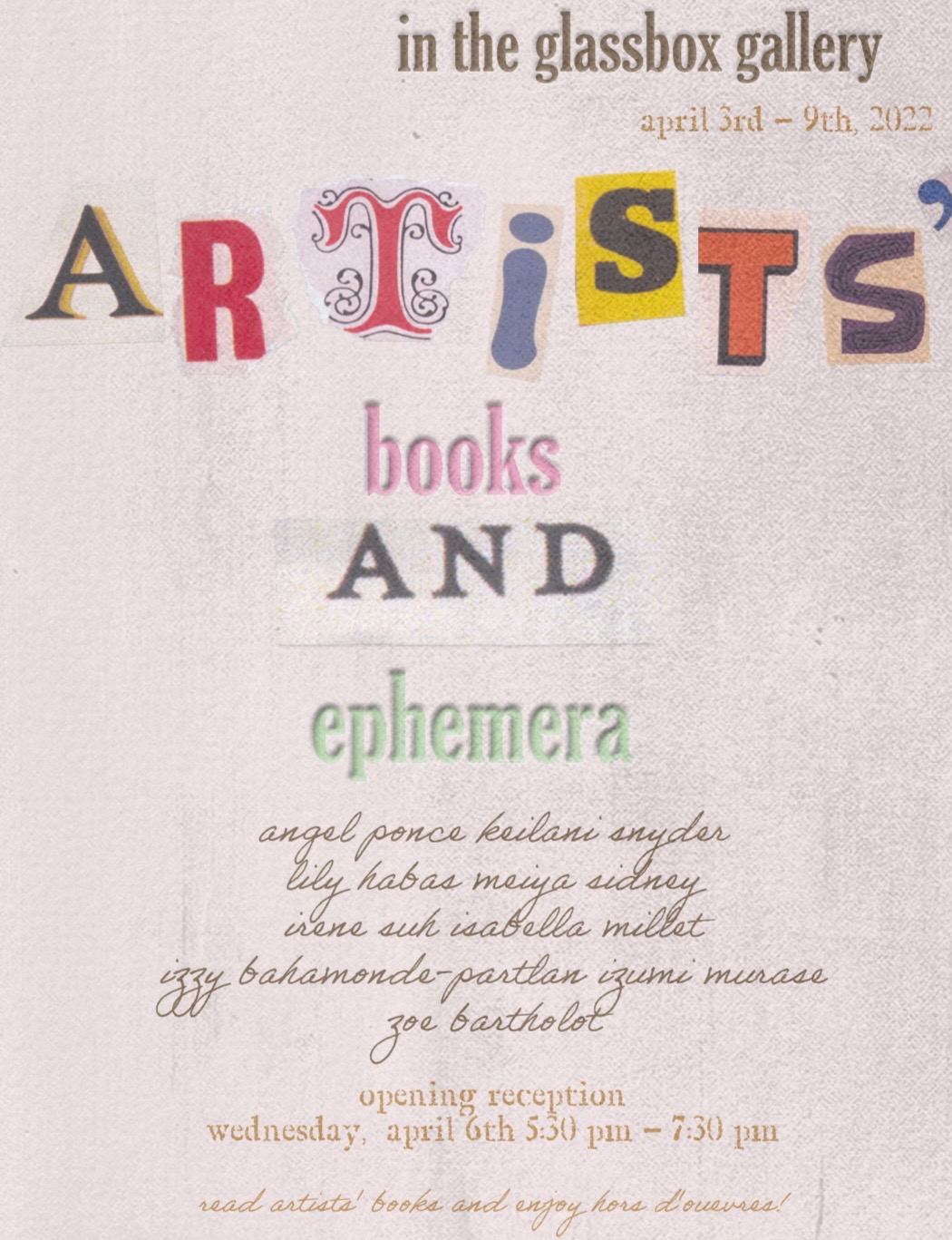 Artists' Books and Ephemera
UCSB Student Exhibition
April 3–9, 2022
Opening Reception: April 6, 5:30-7:30 pm PT
Glass Box Gallery, UCSB
"Artists' Books and Ephemera" is a group exhibition exploring the works of UCSB students from ART CS 105 (Introduction to Artists' Books and Publications: 10 Books in 10 Weeks) taught by Professor Linda Esktrom. The exhibition showcases the developed research and book structures of Angel Ponce, Keilani Snyder, Lily Habas, Meiya Sidney, Irene Suh, Isabella Millet, Izzy Bahamonde-Partlan, Izumi Murase, and Zoe Bartholot.
May 9, 2021 - 9:51pm