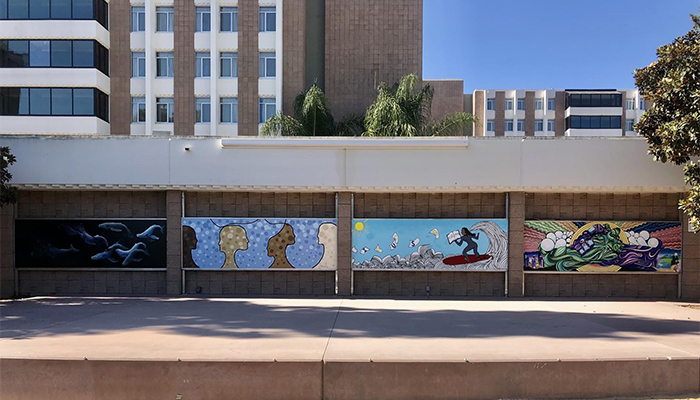 San Miguel Stage Murals, UC Santa Barbara, November 2020. Photo by Olivia Thompson.
Student Activities
On-campus online and print publication, Um…Magazine is a platform at UCSB for under-represented voices to express themselves and their experiences through art.
Located on the stage outside of UCSB's San Miguel residence hall, several student murals are seen on the exterior wall, each an independent work of art. The project was initiated in 2013. Since then, one mural is replaced each year with a new work of art from another student.
Off-campus, based in Isla Vista, free quarterly magazine offering reporting and commentary on popular culture, arts, and literature. WORD's mission provides an inclusive and supportive environment for budding writers and artists living in Isla Vista.
Santa Barbara-based, Lum Art Magazine focuses on California's Central Coast contemporary art scene. 
Student Resources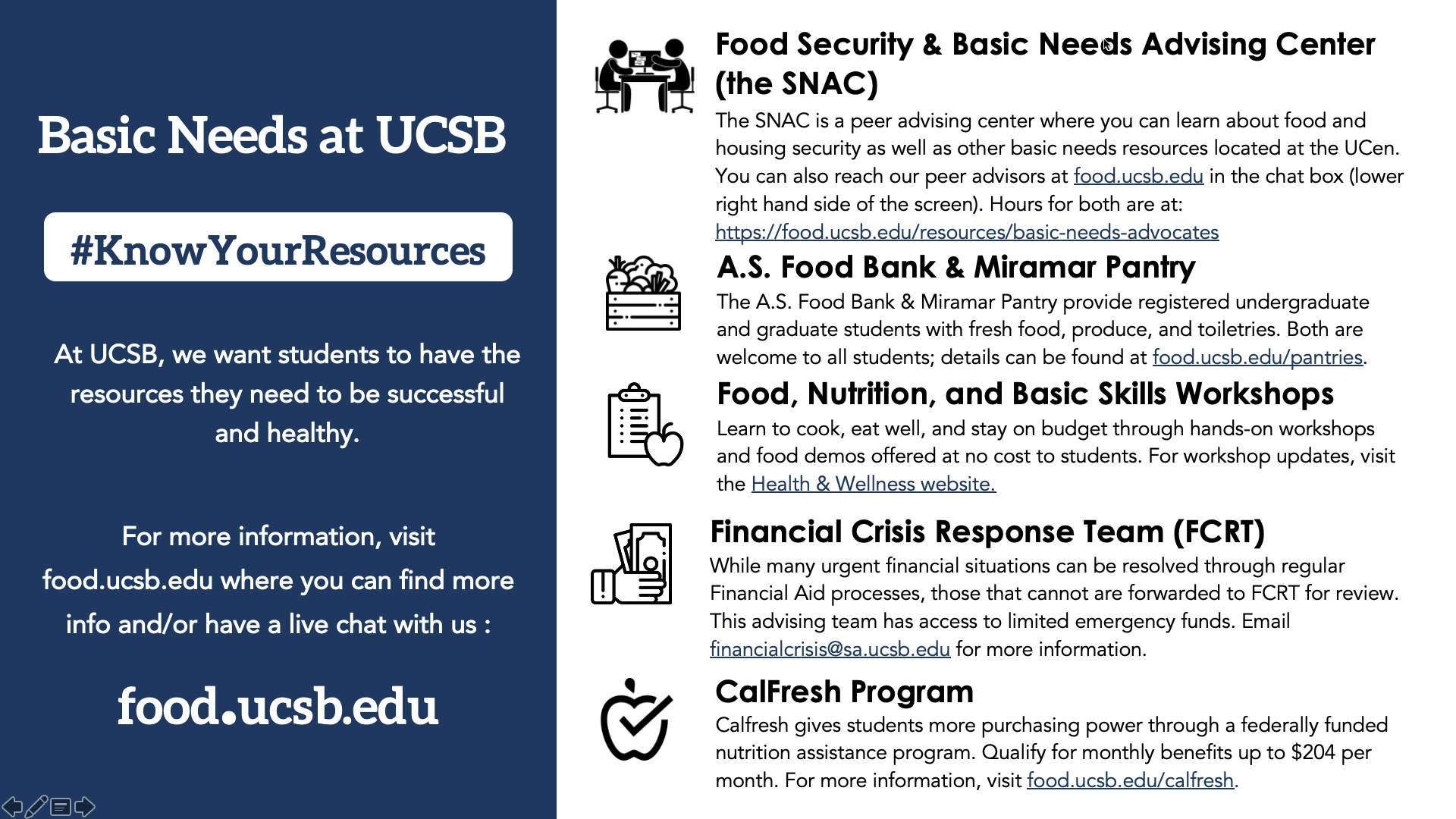 food.ucsb.edu
The SNAC is a peer advising center where you can learn about food and housing security as well as other basic needs resources located at the UCen. You can also reach our peer advisors at food.ucsb.edu in the chat box (lower right hand side of the screen). Hours for both are at: https://food.ucsb.edu/resources/basic-needs-advocates
The A.S. Food Bank & Miramar Pantry provide registered undergraduate and graduate students with fresh food, produce, and toiletries. Both are welcome to all students; details can be found at food.ucsb.edu/pantries.
Food, Nutrition, and Basic Skills Workshops 
Learn to cook, eat well, and stay on budget through hands-on workshops and food demos offered at no cost to students. For workshop updates, visit  the Health & Wellness website.
Financial Crisis Response Team (FCRT)
While many urgent financial situations can be resolved through regular Financial Aid processes, those that cannot are forwarded to FCRT for review. This advising team has access to limited emergency funds. Email financialcrisis@sa.ucsb.edu for more information.
CalFresh Program
Calfresh gives students more purchasing power through a federally funded nutrition assistance program. Qualify for monthly benefits up to $204 per month. For more information, visit food.ucsb.edu/calfresh.
May 24, 2021 - 11:53pm