For scholars wishing to undertake research at the AD&A Museum, please visit the research pages for the Architecture and Design Collection or the Fine Arts Collection. Inquiries and appointment requests may be made via email.
We thank you for your interest in our collections!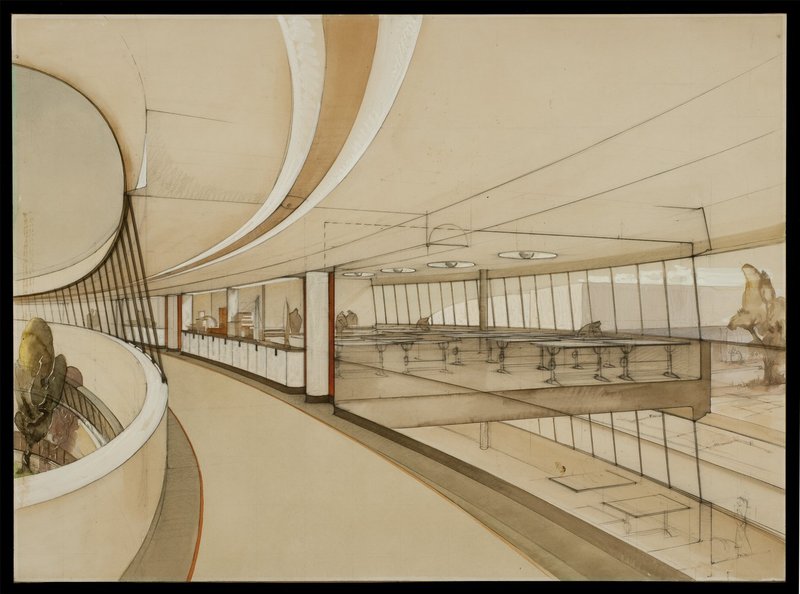 Kem Weber (in collaboration with the Art Center School Students), Art Center School: Building Interior (unbuilt project), Los Angeles, CA (1934-1935), Kem Weber Papers.
'A course at UC Santa Barbara will tackle these gaps in knowledge with objects from the university's Art, Design and Architecture Museum (AD&AM). The class, "Survey: Arts of Africa, Oceania and Native North America," in UCSB's Department of History of Art & Architecture (HAA), will examine 15 objects with the aim of updating details about each one.  New museum labels will then be created to reflect the research.'
Read the rest of the article The Art of Research featuring the collaboration between Ashleigh Lynch, Ph.D candidate in the History of Art and Architecture Department, and Professor Sylvester Obgechie, Lynch's faculty advisor, as they designed and created a new survey course for undergrads unique in its focus on African, Native American and Oceanic Arts.