Event Date:
Saturday, April 13, 2013

to

Sunday, June 16, 2013
Smith and Williams decisively shaped the modern vocabulary of architecture in post-war Pasadena and Los Angeles County.  Working in the wake of the first generation of avant-garde architects in Southern California and riding the postwar building boom, the partners Whitney R. Smith and Wayne R. Williams developed a pragmatic modernism that, through remarkable site planning and design, integrated landscape and building.
Despite the significance of their work, Outside In is the first monographic study of Whitney Smith and the Smith and Williams firm.  Co-curators Jocelyn Gibbs and Christina Chiang drew on the extensive archives within the museum's Architecture and Design Collection.  Kris Miller-Fisher designed the exhibition.  The catalog for the exhibition is scheduled to be available in August (delayed from June).  Please contact Marie Vierra at vierra@hfa.ucsb.edu to reserve a copy.
Outside In: The Architecture of Smith and Williams is part of Pacific Standard Time Presents: Modern Architecture in L.A.  This collaboration, initiated by the Getty, brings together several local arts institutions for a wide-ranging look at the postwar built environment of the city as a whole, from its famous residential architecture to its vast freeway network, revealing the city's development and ongoing impact in new ways.
Major support for the exhibition has been provided by the Getty Foundation.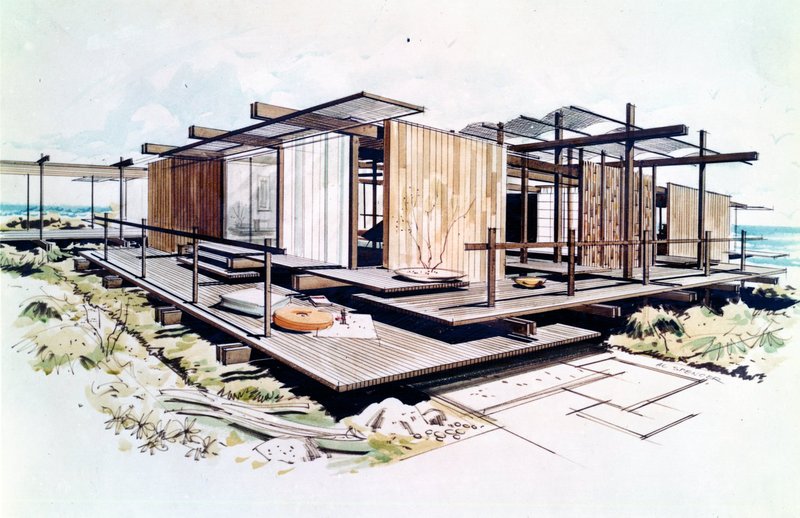 Smith and Williams, Shoreline house for Orange County Home Show (Costa Mesa, Calif.), 1957.  Photograph of a drawing by Al Spencer mounted on board: 8 x 10 in.  Architecture and Design Collection.
December 9, 2014 - 2:59pm